THE RARITIES SHOW écouté sur onde courte dans le monde entier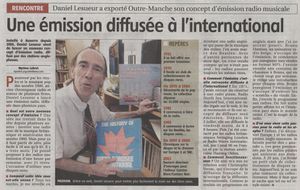 Des mails de réception d'écoute arrivent du monde entier !
Cette semaine, nous saluons nos auditeurs Nobuaki Takahashi,Tokyo, Marco HOMMEL(Allemagne), Stanislav Kyselov(Marienbad, Tchéquie), Li Huade Jiansu (CHINE), Gerald Puhlmann de Berlin, Claudio Tagliabue (ITALIE),Dmitriy Kutuzov (RUSSIE), Jörg Hoffman (Alsbach, ALLEMAGNE), Thomas Drescher, ( POSTMÜNSTER, Allemagne), Shinichirou Morii (Saitama, JAPON),Frank Schuettig (Bali, INDONESIE), Fritz-Walter Adam (Bernburg,ALLEMAGNE), Jouke van der Galiën (Assen, PAYS-BAS), Rudolf Renkwitz (Bützow), Merkouris Gogos (Thessaloniki, Grèce).
En association avec le site web www.infodisc.fr (1 million de visites par an), "The RARITIES SHOW", l'émission de Daniel LESUEUR animée par Bruno HANTSON diffusée depuis le 3 juillet 2015 par RADIO NORTH SEA INTERNATIONAL puis par une dizaine de stations américaines et européennes (FLAMING OLDIES, SWINGIN' RADIO ENGLAND, CANAL 80, AMERICAN GRAFFITI etc), est sur Radio Channel 292 en onde courte 6070kHz (bande des 49m) et vous pouvez d'ores et déjà regarder un clip envoyé par un passionné de radio (cliquer ICI).
The RARITIES SHOW
Il s'agit d'une émission "à l'ancienne", avec des jingles légendaires et constituée de disques rarissimes des années soixante et soixante-dix. Elle est en anglais, puisque son but est de toucher le plus grand nombre, et que l'anglais est compris dans le monde entier.
La cible...
S'adressant aux séniors qui ont le temps et les moyens financiers de voyager, faire du tourisme, acheter via internet des produits du terroir français, "The RARITIES SHOW" est l'outil idéal pour les entreprises françaises qui souhaitent s'ouvrir à l'étranger, en faisant connaître leurs produits pour les exporter... et pour les professionnels du tourisme qui accueilleront les visiteurs anglophones venus des quatre coins de la planète.
Un outil unique...
Pour tout renseignement complémentaire, contacter le producteur de l'émission :daniel.lesueur@yahoo.fr
Rarities Show